Many of these instruments are still in occasional use in my workshop, where I build model steam engines, whilst others are purely part of my collection. Mostly they date from the first half of the twentieth century. Cheap digital calipers have even virtually made many of them obsolete in model engineering workshops now. The photographs show them in used condition, rust and all, which is how they were when I inherited or obtained them. There are also rules and gauges from other trades that I have collected.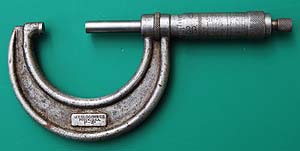 J T Slocomb Co, Providence, Rhode Island, USA
1" - 2" micrometer.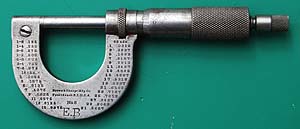 Brown & Sharpe Mfg. Co., Providence, Rhode Island, USA, No 8

0 - 1" micrometer

Patented Nov. 6th 1894 and Dec. 30th 1902.

It has a mahogany case.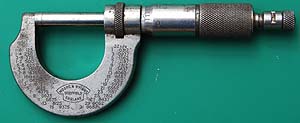 Moore & Wright, Sheffield, England, No 961S

0 - 1" micrometer

It has an adjusting spanner.

Moore & Wright was founded in 1908.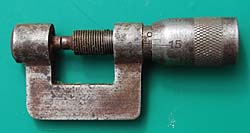 0 - 1/2" micrometer by an unknown maker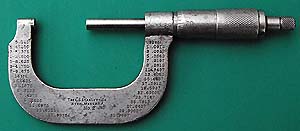 L S Starrett, Atholl, Massachusetts, No. 2 micrometer, 1 - 2"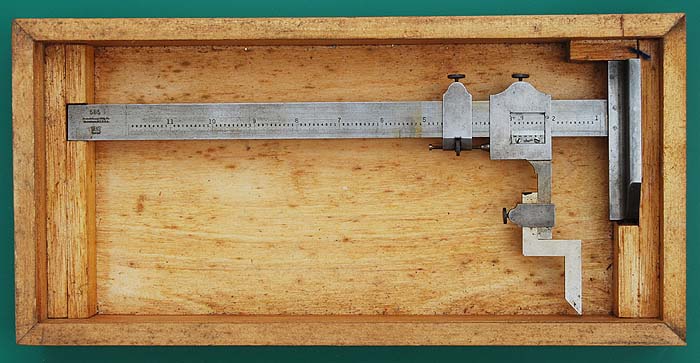 Brown & Sharpe Manufacturing Co, Providence, Rhode Island, USA , 585 vernier height gauge reading to 1/1000"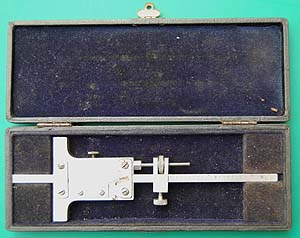 UPT, British made, vernier depth gauge and fitted case

Steel vernier calliper by Mauser. Germany. Graduated to 14 inches by sixteenths on the upper edge and 350 mm by one mm on the lower edge. The inch vernier reads to 1/132 inches and the metric vernier to an order finer 0.02mm.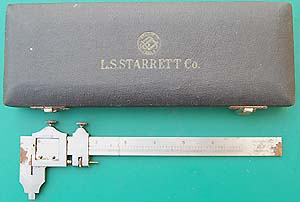 7 inch steel vernier calliper by the L S Starrett Co, Athol, Massachusetts, USA. No. 122.

It is graduated on the front for outside measurements and on the back for inside measurements. The verniers read to 1/1000".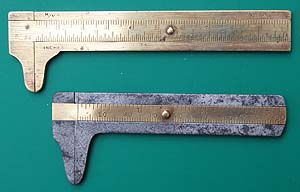 Sliding calliper gauges.

Upper one in brass by J Rabone & Sons, Birmingham.

Lower one in aluminium and brass, unknown maker, promotional "Fit VULCAN MAINSPRINGS for Safety and Accuracy".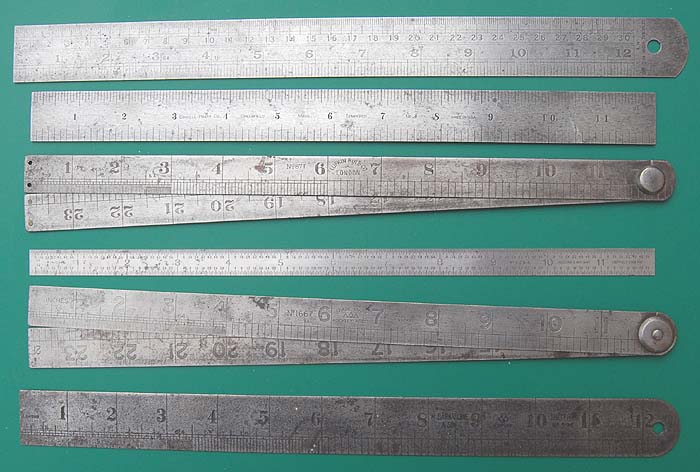 Twelve and twenty-four inch steel rules, top to bottom: (a) General HDW Mfg Co, NY , No 901; (b) Goodall Pratt Co, Greenfield, Mass., USA, No 4; (c) Lufkin Rule Co, London, No 87T; (d) Moore & Wright, Sheffield No 426A flexible; (e) Hockley Abbey (J Rabone & Sons) No 1667; (f) H Barnascone & Sons, Sheffield, 'Empire' No 596.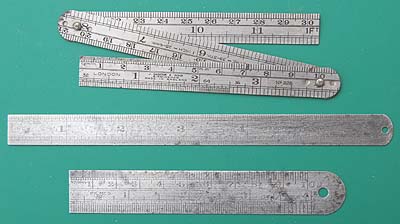 Top to bottom: (a) J Rabone & Sons, Birmingham, No 226 three fold 12" rule;

(b) Chesterman, Sheffield No 332D/3 flexible 6" rule; (c) 4" rule by unknown maker.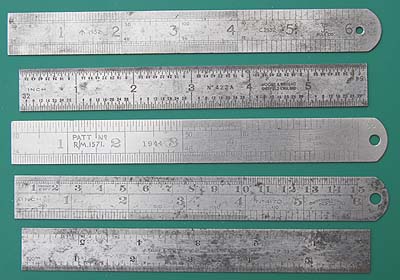 Six inch steel rules, top to bottom:

(a) The J E Rule Co, C2132, ↑ 1952

(b) Moore & Wright, Sheffield, No 422A

(c) ABC Rules & Measures, London, Patt. No R/M 1571, stainless, 1944

(d) Chesterman, Sheffield, No 417D

(e) J Rabone & Sons, Birmingham, No 31.

Note, rules (a) and (c) are ex UK government and dated.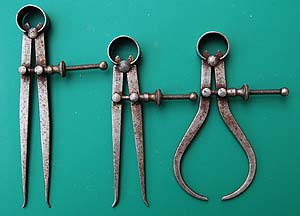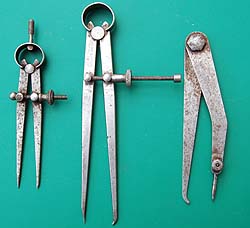 Callipers and dividers by Moore & Wright, Sheffield, England, from left to right: (1) inside callipers; (2) inside callipers; (3) outside callipers; (4) dividers; (5) jenny callipers; (6) firm joint jenny callipers.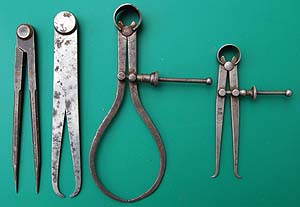 Left to right: (1) steel dividers by unknown maker;

(2) outside/inside callipers by unknown maker;

(3) outside callipers, AD & Co 43

(4) L S Starrett Co, Athol, Massachusetts, inside callipers.

L S Starrett was founded in 1880.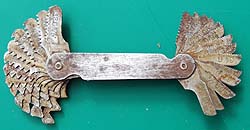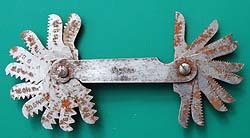 Helix Screw Pitch Indicator by Ovee Spring Gauges Ltd, Edgware, Middlesex, England. Instructions for its use are on the back of the paper case.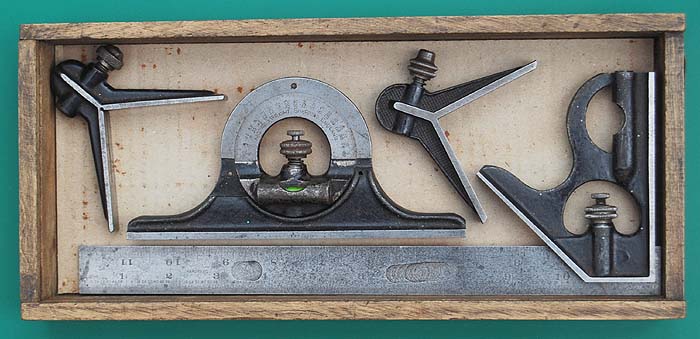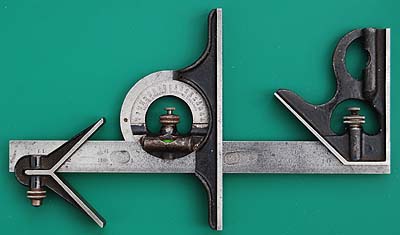 Moore & Wright, Sheffield, England, combination set. The two vee shaped pieces are not original to this set, the original one being missing. The spirit level in the square fitting is broken. It has many uses besides use as a square. The centre fitting is useful on its own as a clinometer.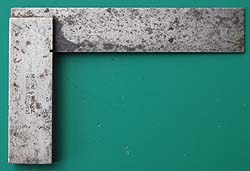 An engineer's square by Moore & Wright.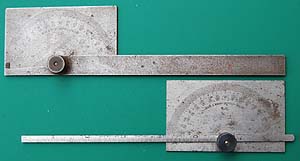 Two engineer's protractors by Moore & Wright. The upper one is a No 48 and the lower one is a No 45. The No 45 can also be used as a depth gauge.



Rabone No 1460 four inch calliper rule made of boxwood and brass. Metric and inch scales.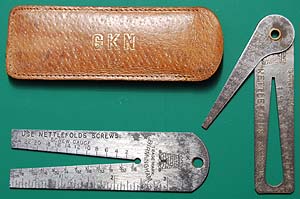 Screw gauges and leather case, all marked GKN (Guest, Keen & Nettlefolds). The bottom gauge has screw gauges marked on side of the vee and inch sizes the other, with a 1/16ths inch ruler on one edge and GK&N's tower trade mark. The other side has imperial wire gauge sizes marked on the sides of the vee and a mm ruler on one edge. It is also marked Chesterman Sheffield No 6001. Both sides marked "Use Nettlefolds Screws". The other gauge has screw gauge marked along the vee and 1/8ths and 1/16ths inch rulers on the edges of the other side. The moving arm is a screw hole gauge. Top face also marked "Nettlefolds Screws" and with tower trade mark.
Boxwood and brass 12" four fold caliper rule, probably made by Upson Nut & Standard Rule, Unionville, Ct, USA.

Two foot folding tailor's square in wood and brass. It is signed 'Roberts, Maker, Sheffield'. Three Roberts are known rule makers in Sheffield, viz: William Roberts (fl.1822-48), Richard Roberts (fl.1852), and Henry Roberts (fl.1868).









A boxwood & brass hatter's rule for measuring the size of hats. The five inch long rule has an extending slide to measure the inside length and width. The table on the reverse then gives the hat size. Date and maker unknown but English and probably early 20th century or possibly late 19th.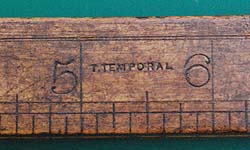 Shoe stick signed 'T Temporal', made of boxwood and brass.
Rabone No 1207 six inch Rope Gauge made of boxwood and brass. UK Government 910/5193. Calliper measures diameter and also has a circumference scale so that that can be read directly. The table on the front is for breaking loads in tons for galvanised hawser steel ropes from one inch to five inch circumference. The table on the back is for weight and breaking load of 3 strand BSS grade 2 manila and sisal rope from one to ten inch circumference.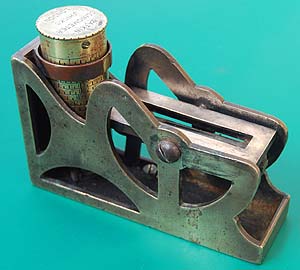 Watkin clinometer by J Hicks, London. This instrument was used for measuring and laying out angles. The sensitive bubble level is held between pivots and connected to a lever which is held against the underside of the micrometer drum by a spring. The bronze frame has two surfaces at right angles enabling any slope between 0 and 90 degrees to be measured, between 45 and 90 being accomplished using the upright face and subtracting the angle read from 90 degrees. With it on the surface to be measured, the micrometer drum is rotated to bring the bubble to the centre of the tube. The angle is then read from the drum against the index mark on the collar. It is divided to five minutes of arc. Probably late 19th century. At that time Watkin clinometers were used by the military for checking the elevation of gun barrels.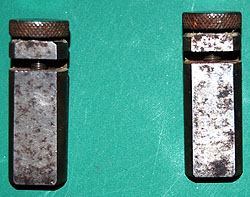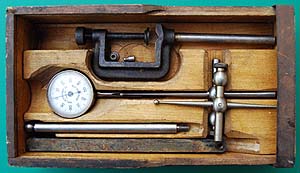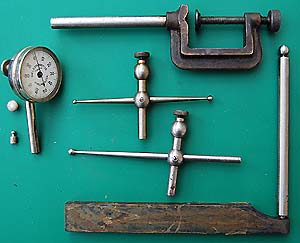 Starrett dial test indicator and accessories, housed in a fitted wooden box. The indicator has alternative buttons and two swinging arms as well as a tool post holder and a G clamp for mounting the instrument on a lathe or milling machine. It is missing a universal clamp for mounting the indicator on either the tool post holder or G clamp.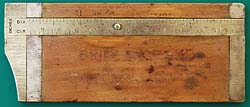 Rabone No 1206 four inch rope gauge. No tables. Promotional for Bridge Brand Steel Wire Ropes made by Bridgwater-Terrell Ropes Ltd, Bristol Road, Bridgwater, Somerset.
Screw pitch gauges for 55 degree, Whitworth threads. The first, English made, has gauges for from 4 to 60 threads per inch, and the second, foreign made, for from 5 to 60 threads per inch.

The 'Cooper' Cotton Driving Rope, Scar Top Ropery, Burnley, Lancs. Gauge made by John Rabone & Sons, Birmingham. The caliper slide has a circumference scale on the upper side and a diameter one on the underside. There is a table giving HP per rope against diameter under which it states: 'The above are highest powers advisable at most efficient speed 4000 to 5000 ft per min with smallest pulley not less than 32 times diameter of rope.'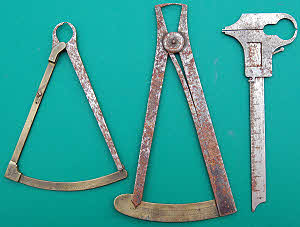 Two metric callipers and a small metric vernier calliper for inside and outside measurements. The left hand calliper is missing its spring. Obtained from Germany. Seen as obtained, the rust has since been cleaned off.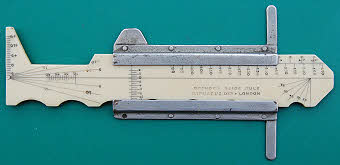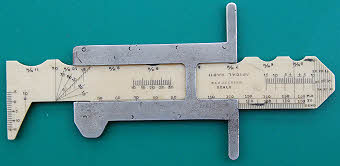 Orthops Slide Rule made by Raphaels Ltd, London for taking a series of measurements of the face and head to determine the sizes required for made to measure spectacle frames. It is made of celluloid and nickel silver.


Philip Harris & Co Limd Birmingham tape and leather strap gauge. It is actually a vernier calliper.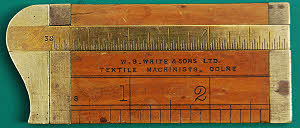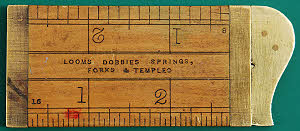 A three inch calliper rule by J Rabone & Sons made for W S White & Sons Ltd, Textile Machinists, Colne. On the reverse it says "Looms, Dobbies, Springs, Forks & Temples".
7 inch steel vernier calliper marked 'Original Deckel' and 'Foreign' on the reverse, almost certainly made in Germany. It has 7 inch by 40ths and 18 cm by 1 mm scales and the verniers read to 1/1000 in and 0.1 mm. For inside measurements the tips are marked 1/8" and 5 mm. These amounts doubled have to be deducted from inside measurements. Serial no. 8583.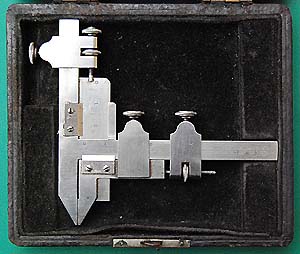 Brown & Sharpe, Providence, Rhode Island gear tooth vernier calliper. The upper vernier is used to set the depth at which the width of the gear tooth will be measured by the vernier calliper.

It has a leather case lined with black velvet.
14" inside and outside Vernier calliper signed 'Troughton & Simms London No. 335 W↑D' made of brass and steel. The upper scale and vernier are for inside measurements and the lower ones for outside. Probably late 19th century. It has a fitted mahogany case. Troughton & Simms were scientific instrument makers rather than engineering tool manufacturers and the construction reflects this.

Satin chrome finished 21cm vernier with inch and metric scales made by Benson Verniers of Bradford. It has a black leatherette covered, blue velvet lined case.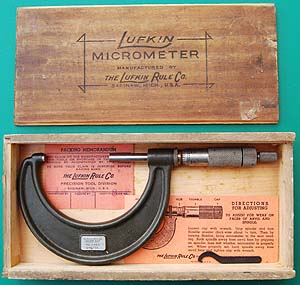 Lufkin 2"-3" micrometer dating from the mid-20th century. Although the case has some damage the micrometer itself still has some of its original preservative grease on it suggesting that it has hardly been used. It also has its adjustment instructions and key, and its packing slip.

The Lufkin Rule Co., Saginaw, Michigan, USA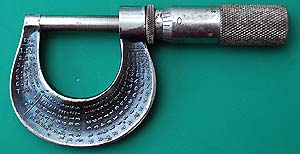 Reed No 701 0-1" micrometer made by the Reed Small Tool Works, Worcester, Mass., USA. It has its original card box. The front of the frame is marked with the decimal equivalents of 1/8ths, 1/16ths and 1/32nds and the back with 1/64ths.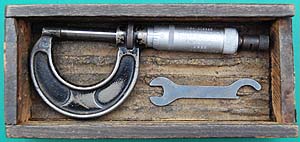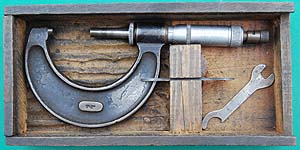 Moore & Wright no. 965 (0 - 1") and no. 966 (1 - 2") micrometers in original boxes with spanners. Much used but well cared for.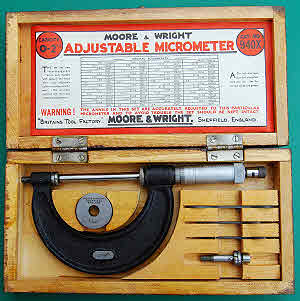 Moore & Wright 940X 0 - 2" adjustable micrometer. Although it possibly dates from the 1930s (it is in the 1936 catalogue) it is in near mint condition with both anvils, the one inch circular standard, and its tools as well as instructions and other leaflets.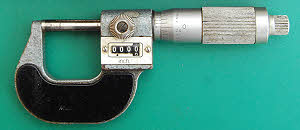 Mitutoyo digit 0-1" micrometer. This is a mechanical digital micrometer. It is complete with instructions and case.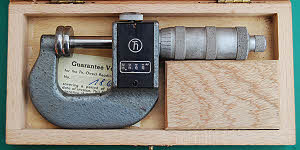 Digital (mechanical) 0-1" micrometer by TH of Germany with its case and guarantee certificate. This is a special micrometer for measuring soft materials such as paper and rubber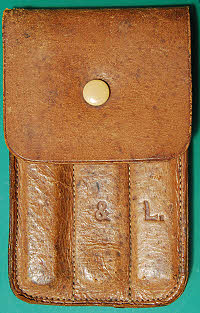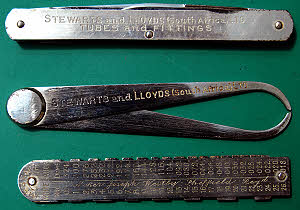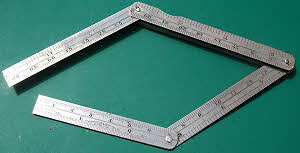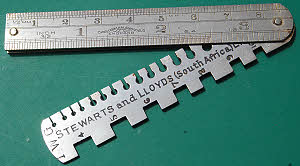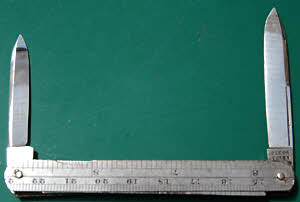 A promotional set of engineer's instruments made for Stewarts and Lloyds (South Africa) Ltd by Joseph Westby of Sheffield. The rules were bought in from Chesterman. The set comprises firm joint callipers, an imperial wire gauge, and a combined pen knife with two blades and twelve inch folding steel rule. Stainless steel.